1. Photo of Attraction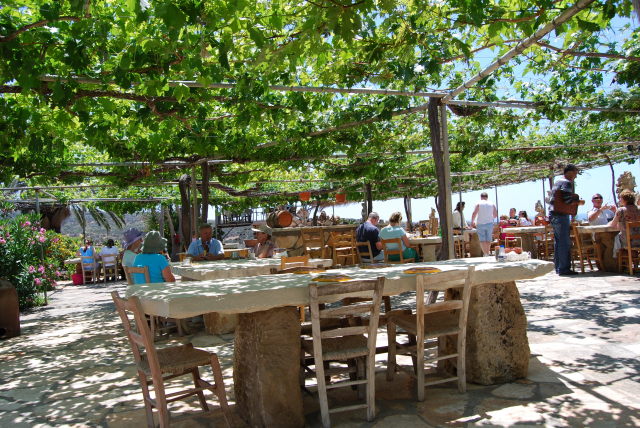 2. Nearest Town/Village
Coral Bay/Agios Georgios
3. Region of Cyprus
Peyia/Polis
4. Distance from Paphos
From Coral Bay approx 14Km
5. Driving Time
From Coral Bay approx 10minutes
6. Google Earth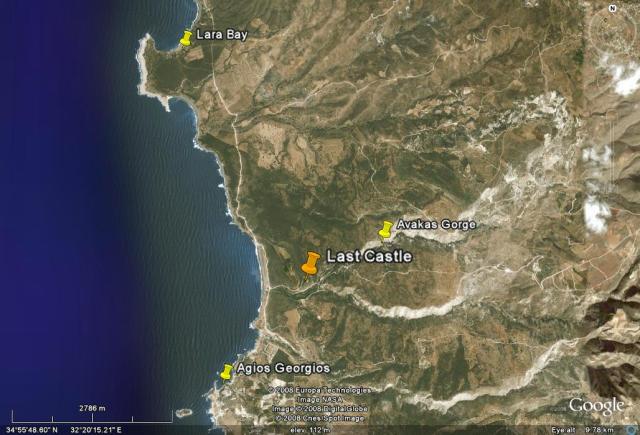 7. Description of Attraction
A very popular, open air restaurant, on a hill top over looking the Akamas Peninsula. The view from the restaurant is reputed to be one of the best in Cyprus and you can't fail to see why. Surrounded by fruit plantations and with a breathtaking view of the unspoilt beach's and deep blue sea.

The restaurant serves a perfectly cooked and delicious souvla daily, consisting of pork and chicken served with a jacket potato or wedges, village salad and bread. It is a licensed restaurant and all other beverages are also available.

The restaurant is well shaded by flowering shrubs and vines providing a unique setting. There is plenty of seating with different arrangements and all of the table tops are large slabs of solid stone, just think Flintstones and you have the picture. There is no menu and visitors don't expect one, which all adds to the charm and ambiance of the restaurant.
8. Link to Website:
Telephone No: 269911088 or 99489000.
9. Additional Information
a) There is a spacious car park at the restaurant.
b) Suitable for the disabled, the restaurant is on one level.
c) Don't forget to take your camera.
d) Even during the warmer months it can feel cool up at Viklari if there is a strong breeze, take a light weight jumper or cardigan.
e) The cost per person is approx 12euro.
f) Viklari is open from 10.30am until 5pm. Not open of an evening.
g) The restaurant is closed from the end of October and opens again sometime during May, telephone above number for opening.
f) Although the road/track is reasonable to Viklari it is best reached with a 4x4, although a saloon car will manage.
h) For those drivers in hired cars unless 4x4 it's worth noting the Akamas is off road driving and you are not covered under your insurance policy for off
road, to be on the safe side check with the car hire company you are using.
i) A vegetarian option is available but prior notice must be given, request when booking.
j) It is advisable to book especially at weekends, the restaurant fills very quickly.
10. Directions to Location
Head along the coast road in the direction of Coral Bay, continue along this road until you see a road sign for Agios Georgios on the left, take this left turning. After a short distance you will see a road sign pointing you in the direction of the Akamas Pennisula, take this right turning and the road will lead you to the Akamas.