BIOGRAPHY:
FRANK CARSON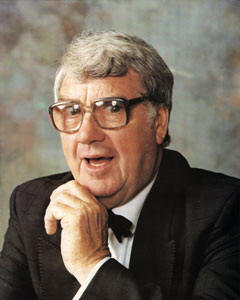 One of the most popular stars in the Comedy World, this zany Irish Comic came to this Country from Northern Ireland to try his luck on the Northern Club scene. His quick fire act was soon spotted by the B.B.C. Television Producer, Barney Colehan, and signed to appear on the top Television show of the time "The Good Old Days" his enormous success on the show prompted Colehan to book him for a further five shows. During this time Frank was the three times outright winner on Hughie Green's "Opportunity Knocks". He was on his way!
Shortly after this, Frank was signed by the then Head of Granada Television Light Entertainment, Johny Hamp, to appear on "The Comedians" and Frank was catapulted into the 'Star' bracket and he appeared in all the subsequent series and was also asked to tour in the specially staged theatre show of the series, which broke all Box Office records at all the Theatres on the tour.
Many other Television shows followed and Frank worked extensively throughout the U.K. at the top cabaret dates and also every year Frank has appeared in Summer Season and Panto, entertaining audiences and making new friends wherever he goes. He also toured the World appearing in places as far apart as Australia, Canada, Europe and the Middle and Far East. Soon his catchp[irases "It's The Way I Tell 'em" and "It's a Cracker", were on the lips of his numerous fans and now are used by many of his colleagues in the business who impersonate Frank. Frank takes this as a great compliment to his ability to entertain.
Frank is a great worker for many charities and good causes ranging from his Captaincy in
1981 of the Variety Club of Great Britain Golfing Society, to the raising only last year

(1986) of £1 30,000 for the Belfast Royal Victoria Hospital Children's Cancer Ward.
He also recently had the compliment of being the subject of "This Is Your Life" this programme now holds the record for the longest period of silence from a stunned Frank! Frank is probably one of the most televised comedians, a medium he loves.
As one of the most popular acts in the comedy world, Frank has an extremely full diary, but was pleased, by agreement, to break the first date in his career to appear in the 1986 Royal Variety Performance, incidentally Frank counts many of the Royal Family as his greatest fans!
The seal of approval was placed on Frank's many community/charity projects when in the spring of 1987 Frank was awarded one of the greatest honours in the catholic church when His Holiness the Pope knighted Frank into the order of St. Gregory.