1. Photo of Attraction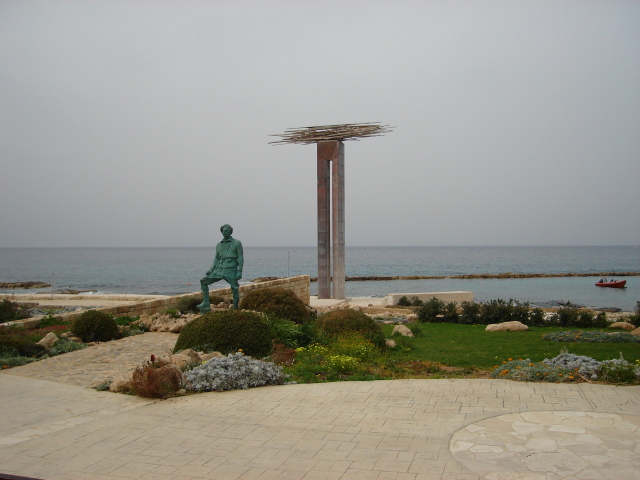 2. Nearest Town/Village
Chloraka.
3. Region of Cyprus
Paphos
4. Distance from Paphos
From Begonia crossroads approx 6Km.
5. Driving Time
Depending on traffic approx 10mins.
6. Google Earth
7. Description of Attraction
The Monument of Memory and Honour was constructed on the shoreline in Chloraka as a Memorial to George Grivas, who fought for the liberation and Independence of Cyprus during 1955-1959. In those days the shoreline of Chloraka was deserted and an ideal site for the secret arrival of the Leader with his first shipment of arms. The boat he arrived on named the Saint George is now housed in a museum very close to the monument. The history and photographs of this period are displayed on the walls.
Cyprus was granted independence from British rule in 1960.
8. Link to Website:
9. Additional Information
a) The museum is open everyday and admission is free.
b) Wide steps leading down to museum may not be suitable for all wheelchairs.
c) The monument is situated in a lovely cove with a small sandy beach.
d) Refreshments available nearby.
e) Plenty of parking space on the road.
10. Directions to Location
From the traffic lights at Begonia Garden Centre, head along the Tombs of the Kings road towards Coral Bay for approximately 6 km. At St Georges traffic lights turn left towards St Georges Hotel. Follow the road around to the left of St Georges Church, the Museum is located towards the beach and down a stepped ramp between St Georges Gardens hotel and St Georges Hotel. look out for signs for Wednesday market and you'll not be far away.